__________________________________
LOOKING FOR FAST AND EFFECTIVE
RELIEF OF SCIATIC PAIN?
(08) 6113 8062
Book Online
Don't be limited by pain. Let our expert team of physiotherapists assess and treat the source of your sciatic pain!
Are You Looking For Proven, Effective Relief of Sciatic Pain?
'Sciatica' refers to pain and inflammation that affects the sciatic nerve, which travels from the lower back and down the leg. The source of irritation varies, but this pain can occur as a result of a bulging lumbar disc, tightness in the hip musculature and other conditions such as a spondylolisthesis. 
The pain experienced with sciatica is often worse in the affected leg compared with the back, and may be accompanied with neurological signs such as pins and needles, numbness or weakness.
Even the mildest of sciatic pains should be treated. These injuries have a large impact on the way we move, causing a host of associated areas of muscle tightness and immobility. For example, you may have noticed an increased difficulty with putting on shoes and socks, crossing your legs and other general exercise. Furthermore, if the driver behind your sciatic pain is not discovered, we can continue to overload these areas resulting in worsening pain and injury.
Move Physiotherapy are your local experts in treating Sciatic-type pain. Our physiotherapists regularly upskill in this area and can guide you through your recovery. 
We have longer 30-minute appointment times (compared with an industry standard 20 minutes) and provide only the latest in evidence based treatments. If required, early pain-relieving interventions may include joint mobilisations, therapeutic massage and dry needling. Once your pain is alleviated, we will investigate your general mobility, movement patterns, areas of tightness and weakness to determine the driving force behind your symptoms. We can then provide expert exercise rehabilitation to correct these factors, and prevent this injury from returning. 
We have two main locations. Our main clinic is based in the Gateway Centre in the Westfield Booragoon complex. This brand new clinic is equipped with state of art treatment rooms, a fully equipped rehabilitation gymnasium in a central and convenient location.
Our second East Fremantle clinic is based inside the Fremantle Rowing Club. This satellite clinic has a beautiful waterfront location with newly constructed rooms, and a complete gymnasium that is shared with members of the Fremantle Rowing Club. This clinic comes fully equipped with change rooms and showers.
To book your appointment at Move Physiotherapy, you can call us at the clinic on 08 6113 8062, or follow this link to book online.
CAUSES OF SCIATIC PAIN FLOWCHART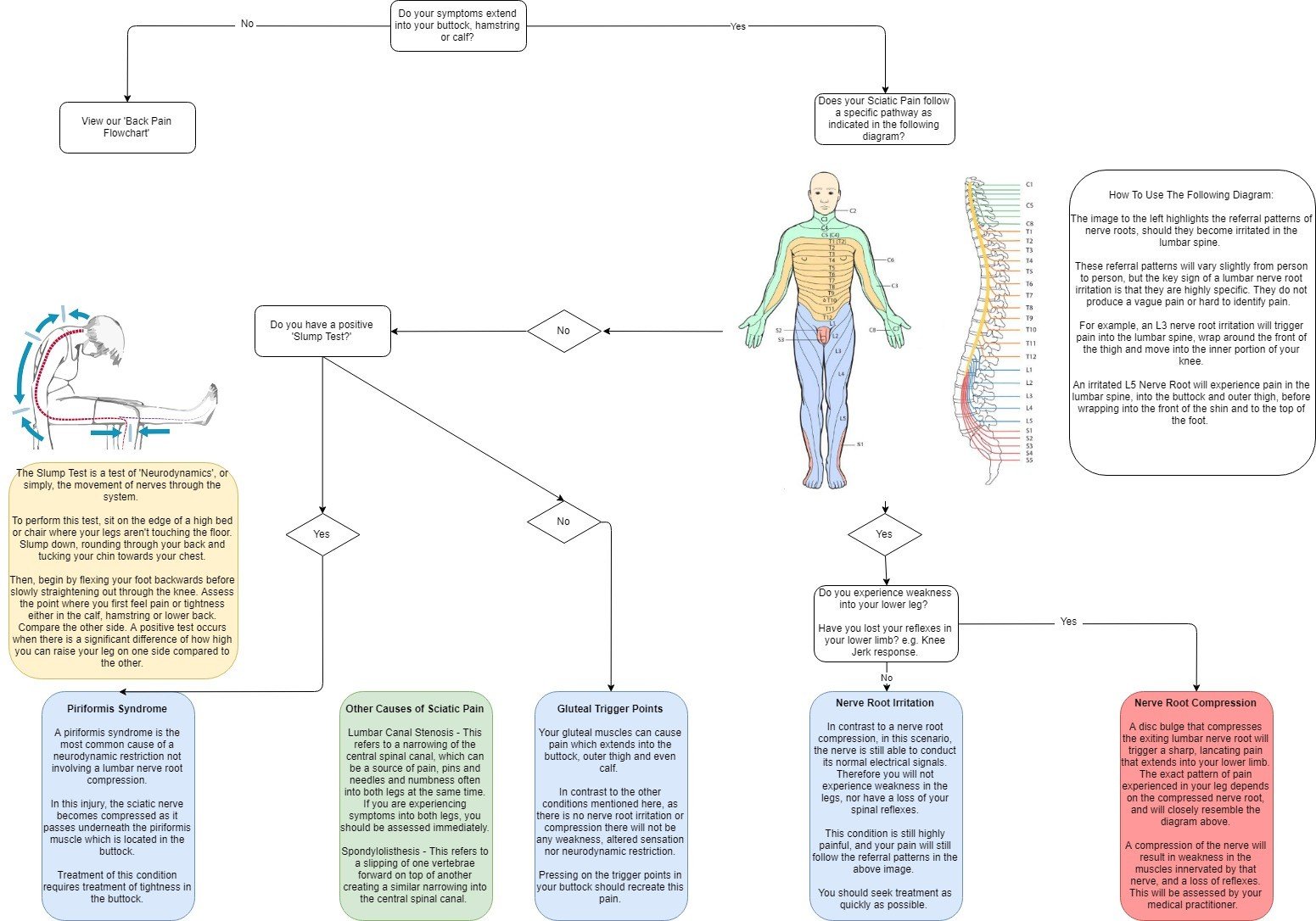 PAY NOTHING OUT OF POCKET FOR YOUR FIRST APPOINTMENT
Each month, we focus on a particular injury and encourage those who are currently affected to book in for a Gap Free Initial Consultation. This applies to our 30-minute Initial Consultations – where you can receive a detailed assessment from your physiotherapist, expert treatment in the first session and an individualised treatment plan; with no out of pocket expense. 
To claim this offer simply:
Book a $67 Initial Physiotherapy Consult using the Booking Form below

When entering your details, in the 'Extra Information' section simply write SCIATICA

Bring your Private Health Insurance card to your appointment. This is required to claim this offer.

If you do not have Private Health Insurance – we have discounted our Initial Appointment Price to just $67.

This offer is available in both our East Fremantle and Booragoon clinic locations.