Are You Looking For Proven and Effective Treatment of Your Sciatica?
'Sciatica' refers to pain and inflammation that affects the sciatic nerve, which travels from the lower back and down the leg. The source of irritation varies, but this pain can occur as a result of a bulging lumbar disc, tightness in the hip musculature and other conditions such as a spondylolisthesis. 
The pain experienced with sciatica is often worse in the affected leg compared with the back, and may be accompanied with neurological signs such as pins and needles, numbness or weakness.
Move Physiotherapy are your local experts in treating Sciatic-type pain. Our physiotherapists regularly upskill in this area and can guide you through your recovery. 
We have longer 30-minute appointment times (compared with an industry standard 20 minutes) and provide only the latest in evidence based treatments. Your treatment will commonly involve joint mobilisations, therapeutic massage and dry needling. Once your pain has been alleviated, we also provide expert exercise rehabilitation to prevent this injury from returning. 
We have two main locations. Our main clinic is based in the Gateway Centre in the Westfield Booragoon complex. This brand new clinic is equipped with state of art treatment rooms, a fully equipped rehabilitation gymnasium in a central and convenient location.
Our second East Fremantle clinic is based inside the Fremantle Rowing Club. This satellite clinic has a beautiful waterfront location with newly constructed rooms, and a complete gymnasium that is shared with members of the Fremantle Rowing Club. This clinic comes fully equipped with change rooms and showers.
Why you should choose us:
Discounted Standard and Extended Initial Appointments – Get a Good Understanding of Your Pain!

Longer 30 minute followup consultations.

Experienced Physiotherapy and Remedial Massage team.

Understand the root cause of your aches and pains.

Targeted rehabilitation of your injuries utilising our fully equipped gym setting. 

Bulk Billing for DVA Patients (White and Gold Card).

Bulk Billing for EPC Claims.  
To book your appointment at Move Physiotherapy, you can call us at the clinic on 08 6113 8062, or follow this link to book online.
CAUSES OF SCIATICA FLOWCHART
COMMON CAUSES OF SCIATICA
A disc bulge which results in either a nerve root compression or nerve root irritation will produce a highly specific referral of symptoms into the leg. The specific referral patterns of each nerve root can be seen in the dermatome diagram in the flowchart above.
However, commonly affected is the L5 nerve root, which will result in buttock pain which extends into the outer thigh before wrapping into the calf and the top of the foot.
In addition to experiencing sciatica symptoms, you will often experience typical discogenic back pain symptoms such as pain with bending forwards and sitting for prolonged periods along with pain with coughing, sneezing and deep breathing.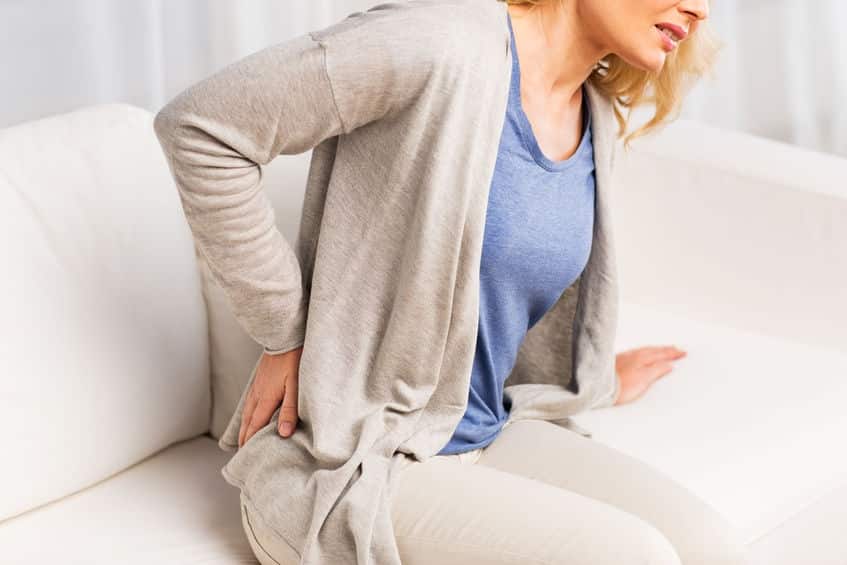 Another common cause of sciatica is a condition referred as a 'Piriformis Syndrome.'
The Piriformis is a small hip rotator muscle in your buttock which overlies the sciatic nerve. In a small percentage of the population the sciatic nerve actually passes through the piriformis muscle. As a result, tightness of this muscle can prevent the sciatic nerve from gliding freely through the system and result in pain and tightness in the thigh.
To treat this condition your physiotherapist will release the muscles in your buttock using techniques such as massage and dry needling.
Your gluteal muscles can also trigger a pain that mimics 'sciatica'. However where this source of pain differs is that there will be no neurological symptoms such as pins and needles, numbness or weakness in the affected lower limb. Furthermore, there will not be a neurodynamic restriction in the affected leg.
Your physiotherapist can accurately differentiate this type of pain with other causes of sciatica and tailor your treatment specifically for this condition. Your treatment may include massage and dry needling in addition to appropriate exercise rehabilitation.
FREQUENTLY ASKED QUESTIONS
Do I Need a Referral From My GP?
No.
Your physiotherapist is a first contact practitioner. Furthermore, in many instances your GP will simply recommend that you receive physiotherapy treatment for your sciatic pain. However, your GP can assist treatment if you require additional pain relief.
Your physiotherapist can advise you whether attending your GP is appropriate, especially in instances where imaging studies (e.g. MRIs or CT scans) need to be taken.
Are There Instances Where I Should Go To a Doctor/Hospital?
Yes.
In instances where you are experiencing pins and needles into both legs at the same time, weakness affecting both legs at the same time and constant pain with no changes in pain intensity regardless of your activity, we recommend that you consult with your GP.
Other issues that may be associated with sciatic pain that require an immediate medical examination include:
difficulty passing or controlling urine
poor control of your bowels
numbness around your back passage or genitals
unsteadiness when walking
unexplained loss of weight
night sweats, chills, fevers, nausea/vomiting or unrelenting night pain.
In these instances, imaging studies such as X-Rays, MRIs or CT Scans are generally taken prior to commencing treatment.
Are Scans Neccessary?
In most cases of sciatic pain, scans such as X-Rays or MRIs are not neccessary in the first 6 weeks. In this period, they will not change the way that your back is treated.
Why Should I Get Sciatica Treatment at Move Physiotherapy?
At Move Physiotherapy, we consider ourselves to be experts in Back Pain Physiotherapy.
We spend longer with you during your first appointment in order to comprehensively assess not only the source of your back pain but also the contributing factors underlying your injury.
We also take the time to understand how your injury is impacting you, and work with you to formulate a plan to get you from pain and injury back to performing at your peak.
Our first appointment always includes treatment, whether this be joint mobilisation, massage, dry needling or simply advice.