Pay NOTHING Out of Pocket for your First Appointment!
Move Physiotherapy is doing something special for our local communities. We don't want you living in pain or discomfort – whether it be that long term niggling lower back of shoulder, or a more significant injury. This is your sign to do something about it. 
Until the end of April, we are offering GAP FREE Injury Assessments. That means – if you have Physiotherapy cover with your Private Health Insurance, we will simply charge the amount covered by your Insurance meaning you have nothing to pay. 
We have two locations where you can claim this offer. Our main clinic is based in the Gateway Centre complex in Booragoon. This brand new clinic is equipped with spacious treatment rooms and a rehabilitation gymnasium. Our second East Fremantle clinic is based inside the Fremantle Rowing Club. This satellite clinic has a beautiful waterfront location with private treatment rooms and a complete gymnasium that is shared with members of the Fremantle Rowing Club.
To be eligible for this offer simply:
Book Your '$77 Initial Physiotherapy Appointment'


When entering your details type in 'GAP FREE APPOINTMENT' into the 'Additional Comments' section.

Attend your Physiotherapy Appointment with your Private Health Insurance Card.

**Note: Does not apply to Senior Physiotherapist Consultations
Why you should choose us:
Longer 30 minute follow up consultations

Experienced Physiotherapy and Remedial Massage team

Targeted rehabilitation of your injuries utilising our fully equipped gym setting

Bulk Billing for DVA Patients (White and Gold Card)

 
To book your appointment at Move Physiotherapy, you can call us at the clinic on 08 6113 8062, or follow this link to book online.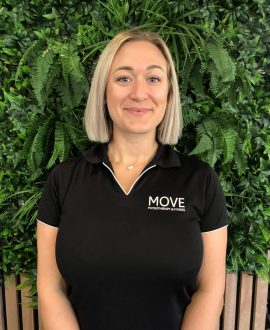 Felicity Graetz
Senior Physiotherapist, Booragoon Team Leader