FELICITY GRAETZ
-SENIOR PHYSIOTHERAPIST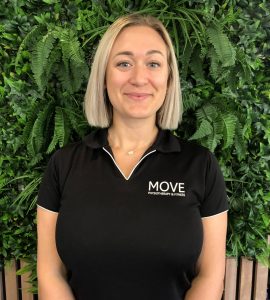 Felicity Graetz
Senior Physiotherapist – Booragoon
Felicity brings a wealth of experience to Move Physiotherapy. We are truly fortunate to have her as our team mentor and senior physiotherapist.
Felicity graduated from the University of South Australia, actually training in the same cohort as our owner Daniel. She relocated to Perth 3 years ago for a sea change and to experience the bliss of our Western Coast and hasn't looked back.
She has held a number of roles ranging from the training of graduate physiotherapists, leading physiotherapy teams, instructing Pilates in both a clinical and group setting and, of course, as a physiotherapist.
Felicity has a strong belief in movement – believing that our bodies are magic and moving them is what makes the magic happen!
She can help you heal and recover, no matter what stage of your health journey you are in.
Professional Qualifications:
– Bachelor of Applied Sciences (Physiotherapy)
Continuing Education:
– Advanced Dry Needling
– Breathe Pilates (Advanced Qualification)